Safely dispose of all unwanted medication & sharps
Return Medication & Sharps to your pharmacy for SAFE DISPOSAL.
MEDICATION DISPOSAL

Do the right thing! Don't dump drugs in the toilet or trash. Bring your expired medications back to Winchester Pharmasave for safe disposal.
SHARPS DISPOSAL
Responsibly dispose of your used sharps to help prevent needlestick and sharps injuries.
Collect–Protect–Respect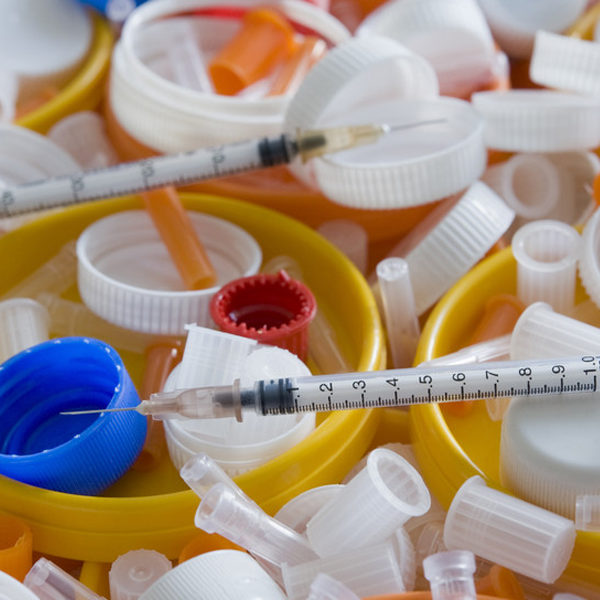 The TAKE IT BACK Sharps Disposal Program
Be sure to ask for a Sharps Container from your Pharmacist. It's made of hard plastic, so needles won't poke through and injure anyone, and it's labelled with bio-hazard caution stickers. Take it home with you and place used sharps inside, including syringes, needles, lancets and insulin pump infusion supplies. You can also place used test strips in the container. Once it's filled (up to the fill line clearly displayed on the container), just take it back to Winchester Pharmasave. We will dispose of it safely, so it doesn't harm anyone or the environment. You can also take back other unused and/or expired medications, too. Talk to your Pharmacist about how to be a part of the program.
You Can Return:
Needles, needle tips and syringes
Insulin pens
Lancets
Other used medical sharps
Components such as glucose meters and cotton swabs should not be disposed of in sharps containers.
Don't throw it out!
Responsibly return unused and expired medications to Winchester Pharmasave. With the Ontario Medications Return Program (OMRP) we make it it easier than ever before for you to do the right thing.
It is important to check your home regularly for medications that are expired or no longer needed. Disposing of them properly can prevent misuse, accidental ingestion, and protect the environment in the process.
OMRP covers all prescription drugs, medications such as over-the-counter medications, including topical antibiotic and antifungal creams and natural health products that are orally ingested, such as vitamins and minerals, traditional Chinese medicines, herbal products, probiotics, amino acids, homeopathic medicines and the like are also included.