Medication Review
You don't need to be a current Winchester Pharmasave customer. If you're regularly taking 3 or more medications, this medication review consultation is a free service*.  Just bring your health card with you. Call us, or visit the Ministry of Health website for more information on this MedsCheck program.
* An eligible benefit for anyone with an Ontario Health Card. Some restrictions apply. Ask one of our Pharmacists for complete details.
Meet with our pharmacist in the private consultation room to talk about:
The medications you are taking
What they do
How well they work for you
How to get the most out of them
The meeting is to: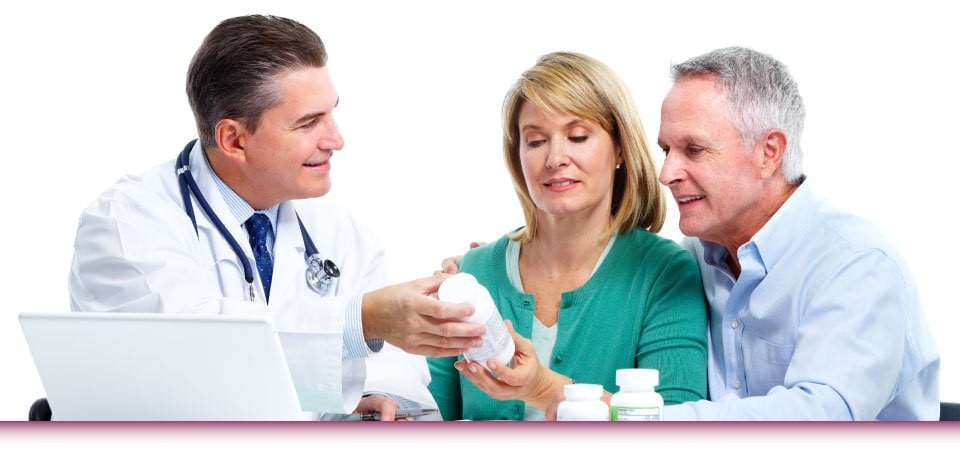 Help you find out more about the medications you are taking
Pick up any problems you are having with your medications
Improve the effectiveness of your medications. There may be easier ways to take them, or you may find you need fewer medications than before.
Our pharmacist will have questions to ask you. You may have concerns or questions that you want to ask. You can ask anything at all about your medications .
Remember you can ask our pharmacist questions at any time, but a review will give you and us both more time to concentrate on you and your medications .
How you may be offered a review:
Our pharmacist might invite you for a review either in person or in a letter through the post.
You can also ask our pharmacist for a review.
Is a medication review for you?
You can ask for a medication review if:
You are regularly taking more than three prescription medications
You are taking medicines for a long term illness (like asthma, arthritis, diabetes or epilepsy
Our pharmacist will be happy to arrange a review meeting, and may even suggest it. Your doctor or nurse might also suggest that a review would be helpful.
Even if you are not in either of these groups, you can ask our pharmacist for advice at any time.
If there is an urgent problem with medicines, don't wait for a medication review. If you or somebody else, notice one of the things on this list, don't delay:
If you have taken too much of any medicine
If you have an allergic reaction to a new medicine (such as wheezing, rash, swelling or fainting)
If you notice a serious side effect or any unusual symptoms
If you notice your health getting worse
In any of these cases, talk to a doctor or pharmacist straight away.
What you can expect in the review meeting
Our pharmacists have undergone special training and have been assessed to make sure they have the right knowledge and skills to provide this service.
The meeting is confidential.
We have a private consultation room in our pharmacy where you sit down together with the pharmacist and can't be overheard by customers or staff.
Your details and your discussion will be kept private. You can talk openly and your questions or worries will be listened to. Only you and your doctor will normally receive a record of the meeting.
Our pharmacist will listen and help
We will be ready to hear your concerns and your questions. You can be open with us and say whatever you want in these meetings.
Our pharmacists will only know about medications that you have received from our pharmacy. We will not have a record of prescriptions you may have picked up from another pharmacy. We will not have your medical history or details about your illness. So it's important to tell us as much as you can.
What happens afterwards?
Everything may be okay with your medications and nothing else will need to happen.
You will be given an Action Plan which will include any changes you have agreed in the way you take your medicines. This will be filled in by our pharmacist during the review.
A copy of the Action Plan will go to your doctor and be kept with your medical notes.
Our pharmacist may recommend a change to your prescription. You will have a note of this in the Action Plan. Both you and your doctor will need to agree on any changes to your prescription, so you may be asked to make an appointment with your doctor to discuss these. No changes will be made against your will.
Questions you may want to ask
These are just suggestions. You can ask us any questions you like about your medicines.
What does this medicine do?
Why is it important that I take this medication?
Are there any other treatment options? When and how should I take it?
How long should I take it for?
What other medicines, drinks, foods or activities should I be aware of when I am taking this medication?
What should I do if I don't feel well while taking it?
How do I know it's helping?
How can I be sure it's safe for me to take?
What are the possible risks and side effects?
What should I do if I get one of these effects?
Could another medication do a better job, with less risk?
What if I stopped taking it, or took a lower dose?
Will the medication build up in my body?
Do I really need to take these medications?
Is there anything that can help to remind me to take my medications?
Can I have containers that are easier to open?
Where can I go for more information?
Please do not hesitate to contact us if you require any more information on the Medication Review service.